Digital Transformation in Practice: Elements of Digital Strategy
Join digital leaders who will share a practical framework for digital transformation options, and how to avoid common pitfalls. Gain insights into: Making key strategic choices about digital transformation and avoiding common pitfalls. Crafting transformation strategy, framed through a comparison between Amazon and Barnes & Noble. Identifying and leveraging the possibilities enabled by today's rapidly advancing technologies. Driving applied …
Continue Reading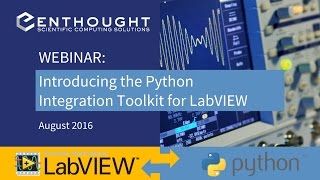 Intro to the New Python Toolkit for LabVIEW
LabVIEW is a software platform made by National Instruments, used widely in industries such as semiconductors, telecommunications, aerospace, manufacturing, electronics, and automotive for test and measurement applications. In August 2016, Enthought released the Python Integration Toolkit for LabVIEW, which is a "bridge" between the LabVIEW and Python environment.
In this webinar, we'll demonstrate:
How the new Python Integration Toolkit for LabVIEW from Enthought seamlessly brings the power of the Python ecosystem of scientific and engineering tools to LabVIEW
Examples of how you can extend LabVIEW with Python, including using Python for signal and image processing, cloud computing, web dashboards, machine learning, and more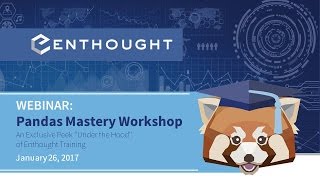 Pandas Mastery Workshop: An Exclusive Peek "Under the Hood" of Enthought Training
Enthought's Pandas Mastery Workshop is designed to accelerate the development of skill and confidence with Python's Pandas data analysis package — in just three days, you'll look like an old pro! This course was created ground up by our training experts based on insights from the science of human learning, as well as what we've learned from over a decade of extensive practical experience of teaching thousands of scientists, engineers, and analysts to use Python effectively in their everyday work.
In this webinar, we give you the key information and insight you need to evaluate whether the Pandas Mastery Workshop is the right solution to advance your data analysis skills in Python, including:
Who will benefit most from the course
A guided tour through the course topics
What skills you'll take away from the course, how the instructional design supports that
What the experience is like, and why it is different from other training alternatives (with a sneak peek at actual course materials)
What previous workshop attendees say about the course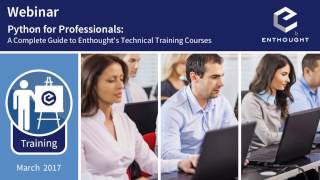 Python for Professionals: The Complete Guide to Enthought's Technical Training Courses
What: Presentation and Q&A with Dr. Michael Connell, VP, Enthought Training Solutions
Who Should Watch: Anyone who wants to develop proficiency in Python for scientific, engineering, analytic, quantitative, or data science applications, including team leaders considering Python training for a group, learning and development coordinators supporting technical teams, or individuals who want to develop their Python skills for professional applications
Python is an uniquely flexible language – it can be used for everything from software engineering (writing applications) to web app development, system administration to "scientific computing" — which includes scientific analysis, engineering, modeling, data analysis, data science, and the like.
In this webinar, we'll give you the information you need to decide whether Enthought's Python training is the right solution for your or your team's unique situation, helping answer questions.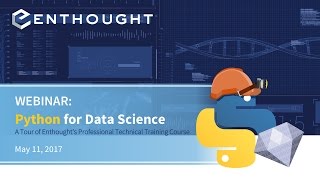 Python for Data Science: A Tour of Enthought's Professional Training Course
What: A guided walkthrough and Q&A about Enthought's technical training course Python for Data Science and Machine Learning" with VP of Training Solutions, Dr. Michael Connell
Who Should Watch: individuals, team leaders, and learning & development coordinators who are looking to better understand the options to increase professional capabilities in Python for data science and machine learning applications
Enthought's Python for Data Science training course is designed to accelerate the development of skill and confidence in using Python's core data science tools — including the standard Python language, the fast array programming package NumPy, and the Pandas data analysis package, as well as tools for database access (DBAPI2, SQLAlchemy), machine learning (scikit-learn), and visual exploration (Matplotlib, Seaborn).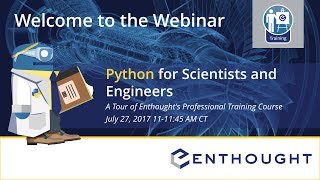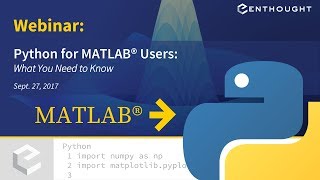 Python for MATLAB® Users: What You Need to Know
What:  A guided walkthrough and Q&A about how to migrate from MATLAB® to Python with Enthought's Lead Instructor, Dr. Alexandre Chabot-Leclerc.
Who Should Watch: MATLAB® users who are considering migrating to Python, either partially or completely.
You and your organization might be thinking about migrating from MATLAB to Python to get access to the ecosystem and increase your productivity, but you might also have some outstanding questions and concerns, such as: How do I get started? Will any of my knowledge transfer? How different are Python and MATLAB? How long will it take me to become proficient? Is it too big a of a shift? Can I transition gradually or do I have to do it all at once? These are all excellent questions.
Using Python and LabVIEW Together to Rapidly Solve Engineering Problems
What: Presentation, demo, and Q&A with Collin Draughon, Software Product Manager, National Instruments, and Andrew Collette, Scientific Software Developer, Enthought
Who Should Watch:
Engineers and managers interested in extending LabVIEW with Python's ecosystem
People who need to easily share and deploy software within their organization
Current LabVIEW users who are curious what Python brings to the table
Current Python users in organizations where LabVIEW is used
Engineers and scientists all over the world are using Python and LabVIEW to solve hard problems in manufacturing and test automation, by taking advantage of the vast ecosystem of Python software. But going from an engineer's proof-of-concept to a stable, production-ready version of Python, smoothly integrated with LabVIEW, has long been elusive.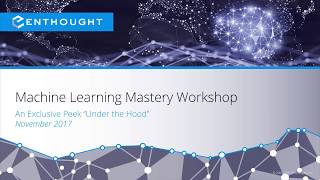 Machine Learning Mastery Workshop: A Peek "Under the Hood" of Enthought Training
What: A guided walkthrough and live Q&A about Enthought's new Machine Learning Mastery Workshop training course.
Who Should Watch: If predictive modeling and analytics would be valuable in your work, come to the webinar to find out what all the fuss is about and what there is to know. Whether you are looking to get started with machine learning, interested in refining your machine learning skills, or want to transfer your skills from another toolset to Python, this webinar will help you determine if Enthought's highly interactive, expertly taught Machine Learning Mastery Workshop is the right fit for accelerating your development!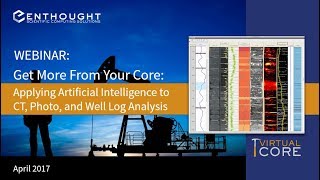 Get More From Your Core: Applying Artificial Intelligence to CT, Photo, and Well Log Analysis with Virtual Core
What: Presentation, demo, and Q&A with Brendon Hall, Director, Energy Solutions Group, Enthought
Who Should Watch:
Oil and gas industry professionals who are looking for ways to extract more value from expensive science wells
Those interested in learning how artificial intelligence and machine learning techniques can be applied to core analysis
Virtual Core automates aspects of core description for geologists, drastically reducing the time and effort required for core description, and its unified visualization interface displays cleansed whole-core CT data alongside core photographs and well logs. It provides tools for geoscientists to analyze core data and extract features from sub-millimeter scale to the entire core.
The Power of Automation: Accelerate your science for digital transformation
WHAT: An introduction to the possibilities provided by automation in business and scientific workflows
WHO SHOULD WATCH: Scientists, engineers, and group leaders who have repetitive scientific tasks they would like to automate and digital transformation advisors and managers driving organizational change
Develop Scientists and Engineers into Leaders of the Digital Future
The Digital Transformation Technical Leaders Program is a multi-year effort designed to develop scientists and engineers into digital scientists and engineers who will become the technical leaders of tomorrow.
The program combines training, apprenticeship, and real life workplace problem solving to accelerate the development of technical teams.